DENTAL CROWNS
If you have a tooth that is very damaged or you have big fillings in the tooth, it may be necessary to make a crown on the tooth.
A tooth crown can be made in different materials. It may be a porcelain crown, which has a good durability and a nice natural appearance. A porcelain crown can be made to look exactly like a tooth, and it can be made in a color that fits exactly the color of your other teeth so that it blends naturally. A porcelain crown may be necessary and the best solution in some cases, although it is a more expensive solution than a plastic filling.
When you come in as a patient with us, we will take good time to investigate your teeth so that we can assess whether it is a porcelain crown you need. Of course, we will involve you and have a good dialogue with you, where we will also provide you with information about your teeth and possible treatments.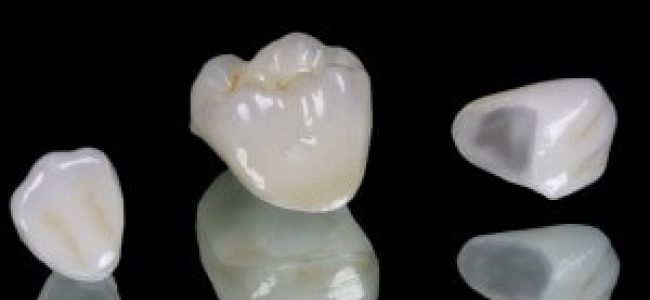 A porcelain crown is a kind of hood that we put outside the last of your existing tooth. When we make a porcelain crown, we put a protective skin on your broken tooth to make it stronger and not break so easily. The porcelain crown is made to fit your tooth exactly and so it feels comfortable in your teeth set. A crown is a nice solution that has a natural look and it has a long durability.
It is important to treat your tooth if it is broken as it may develop and cause more damage to the perimeter teeth and on the gum.
With a porcelain crown, you can fix your broken tooth to make it strong and durable again. You thus avoid genes and pains and additional dental problems, and you get a tooth that works and is chewing with.
Different types of crowns and bridges
Metalware crowns and bridges, unlike pure metal crowns, can be colored to your surrounding teeth. Next to pure ceramic crowns, metal ceramic crowns are the crowns that look like natural teeth most. Sometimes the metal underneath the crown's porcelain may shine through like a dark line, especially at the gum line and, even more, if your gums retract. These crowns can be a good choice for baby and baby teeth.

Zirconium-based ceramics are unique systems for the production of aesthetic and functional dental replacements. A CAD / CAM technology scan is the basis of a custom-made top that stands out for optimal fit, high strength, no porosity, and the ability to let light pass through. Zirconium-based ceramic crowns and bridges can be recommended for protetical reconstructions all over the mouth due to the high strength of the core material. This is made of bio-compatible materials that minimize the risk of allergic reactions. The translucent glaze gives the crown outstanding aesthetic qualities that restore the beauty of natural teeth.